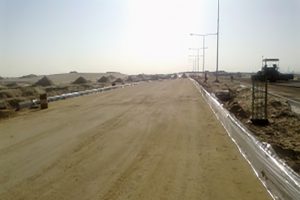 MOFARREH M. AL-HARBI PARTNERS FOR CONTRACTING is also popularly known as MMAH in short established its business operations in the year 1977. Since its inception big contractors of civil works prefer us. Proud to say that now we are one of recognized leading contractors in the Kingdom engaging in a full range of construction activities for the past thirty (30) years. Our capabilities which include services but not limited to Project Management, Project Planning, Administration, Engineering, Procurement, Construction, Testing and Commissioning and Fabrication assistance in all field of projects and the main services as outlined but not limited to the following herein below:
Earth Moving
Site Preparations / Developments
Backfilling Works
Road Constructions
Construction of Well Sites
Slope Protection / Stabilization
Underground Utilities & Services
Heavy Equipment Rental Services
Transportation Services
Trading-Sales of Used Equipment
We are experienced in the above prescribed works and technically capable to execute any kind of project related to the listed professionally, in which company's policy is to insure continuous growth and expansion with in the field of construction business on demand while assuring out Client a definite fulfilment of services and commitment.
The Construction supports by MMAH basically include the supply of site management, labor, supervision, materials, consumables, transportation, equipment, tools, utilities, services, catering, accommodation, and all other items which are necessary and required to complete the Project Work in a professional way.
Backing up this line of general and site preparation, specializing in fast accurate and reliable machinery support, we offer services to make sure you're up and running when you need to be. We are committed to supporting you with the best equipment and the most cost effective solutions. Since MMAH serves customers with different requirements in all areas of the Kingdom.
MMAH offers a full line of construction equipment to fit the needs of the construction contractor with adequately qualified manpower and project experts. Our goal is to supply equipment that offers you better value through increased performance, reliability and quality.
Whether you're a small contractor, or a large construction company, you need equipment with the versatility to perform efficiently on any jobsite. M.M. AL-HARBI Partners has the site preparation construction equipment and technical crew/project experts to execute all sorts of civil-earthmoving project activities in timely and expeditious manner.
MMAH plays a key role in its commitment to excellence. We think that excellence is a direct result of good quality planning, which results in conformance to our highly recognized standards, competitive price and prompt mobilization to meet the demands of our reputed Clients and at the same time to achieve Clients objectives plus its mechanical completion dates.